WHY USE OUR SERVICES FOR AN ASIAN SEX VACATION?
Undecided whether you should take the plunge and book one of our erotic vacations? Undecided on whether our Thai Angels will be the right choice for you? Below should give you a very good insight into what you can expect with our service and girls.
Firstly we would like to tell you that we are not agents, we organize these vacations directly from our office which is based in Phuket. We do not offer resort vacations with affiliate partners or hotels/spas. We only use our own luxury private villas set in their own tropical gardens. The villas are all unique and not situated in a complex. We do not have shared villas with other guests that you do not know. When you book one of our sex holidays you will get your very own private villa with swimming pool. You make a choice of Angels before you arrive and you will also get the opportunity to change Angels at no extra cost.
In addition you get fantastic inclusive excursions including speedboat day trips to out islands including Phi Phi Island with full lunch included. These holidays are for gentlemen who need a stress break from work, recently divorced or retired and need a level of service that is not geared for those wanting to come to Thailand and get plastered with a different hooker every night. The Angels provide true girlfriend experiences 24/7. Yes they are with you the entire time not just evenings. For this level of service our prices have to be one of the most competitive in the world. This is not a sex vacation it is an erotic dream holiday experience that you should not miss out on at least once in your life!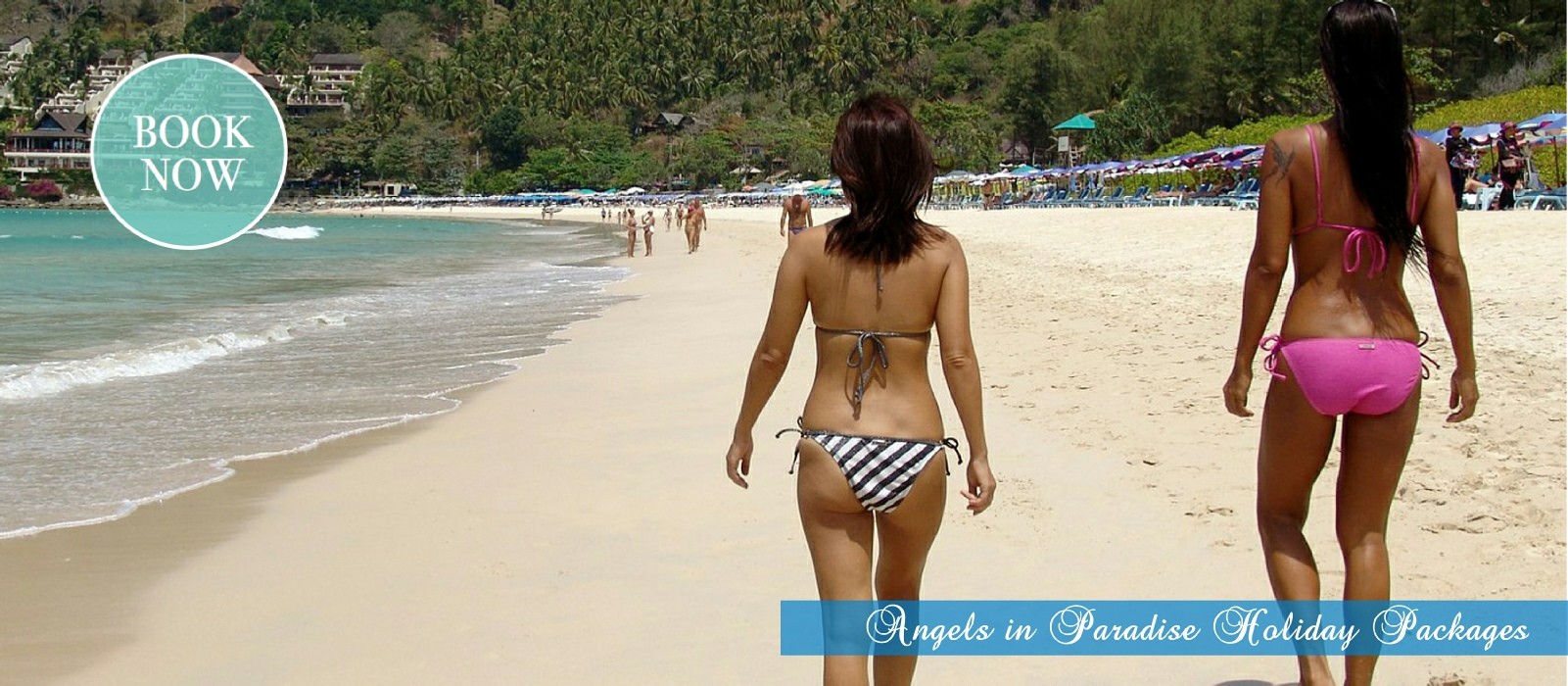 What's so special about our girls?
First and foremost, they are beautiful, that can never be understated, probably the most sensual race in the world. Provision of the girl friend experience by our Angels comes naturally. They are warm and fun and all have one thing in common, they are looking for a long term partner!!! So beware, yes they will give you an excellent time and it will be the best holiday you will ever experience, but bear in mind that they all have their ultimate aim in mind. When our Angels leave our service it is only ever because they have married or formed a relationship with one of our clients. If you do not want this please try not too fall in love with them 🙂
Thai women are definitely GFE- oriented ("GirlFriend Experience"). It's as good as as it gets…
What are the girls like and what are their attitudes?
Women's lib hasn't made it over to Thailand. The women aren't loud or brash. They are feminine and attentive.
Most of the girls really don't like to think of themselves as prostitutes in fact they are not. They will usually consider themselves to be your girlfriend for the duration of your time together (days, weeks – whatever you want).
It may be playing at semantics, but the difference is important. There is a casualness and acceptance of this form of companionship here in Thailand thats conducive to developing friendships and even long term relationships.
This is what makes this place special, your are not renting a hooker or a whore, you are having a great time with this girl you have just met and your helping her out with some expenses!
If your still unconvinced and are thinking of taking one of the options in South America or Dominican Republic then read on………
Pros of Thailand
1) You've got to know the scene in Costa Rica (Thailand is much more forgiving). In Costa Rica rip off tourist traps exist everywhere.
Walking around drunk and lost after dark is seriously dangerous.
You cannot simply plop down in Costa Rica and hit a club or the scene without knowing the deal. You'll either pay a fortune if you go to the wrong club, or be disappointed if you expect a 'Girlfriend Experience' (GFE), depending on your knowledge and expectations entering into the scene.
If you expect Costa Rica to be different than Thailand then it's a valid alternative.
2) Consistency: Costa Rican ladies are very variable in terms of giving a truly "into it" kind of session. And not all are Costa Rican; many are Colombian, Nicaraguan, and Dominican.
Many ladies in Costa Rica are authentically warm and into the action, yes, but not with the same consistency as in Thailand. If they are not, they aren't going to fake it as well as a Thai.
Costa Rican ladies don't play the GFE game of affection the way their Thai sisters do. The easy GFE that Thailand is renowned for, and the tendency to seduce newbies, is largely absent in Costa Rica. Great action with "temporary only affection" – the norm here – is the hallmark of these ladies.
While you can get the GFE or longtime in Costa Rica, a lot depends on your attitude, wallet (figure US $250), and your ability to discern.
Latinos will forcefully push back an attitude problem onto you. Latinos are often rough and impatient when given crap, while Thais are generally patient and gracious. Remember: you're in a Spanish neighbourhood while in Costa Rica.
They have Latin tempers, so have at least as much patience with Costa Rican Time as you do with Thai Time concepts, as they are essentially the same.
From the moment you make initial contact with us, your satisfaction becomes our priority. From your first email to your return home after experiencing our sex holidays you will be impressed and truly satisfied with the provisions made, if you do not return soon we will be surprised. Thailand is the place to be.