Phuket perfect location for Thailand Sex Holidays
Or head straight to our sex vacations packages in luxury private villas with stunning Angels. Packages
Angels in Paradise
Erotic Holidays in Thailand
DESTINATION PHUKET : Optional Excursions
Guide to the erotic paradise of Thailand Phuket and the best sex holidays package you will ever have. Sex Vacations at their best!
Phuket sits in the tropical waters of the Andaman Sea and welcomes thousands of new and repeat visitors every year. It has great infrastructure and stable road systems which help make this stunning island very appealing for tourists looking to experience Thailand in Western comfort. The added attraction of course are the beautiful girls here that are probably the most loyal and lovely ladies in the world. Perhaps also the naughtiest!! Which makes erotic vacations and holidays here the perfect location.
With its glorious beaches and pretty coastline, Phuket has a whole range of accommodation on offer from five- star hotels and private villas to budget backpacker rooms. Its great location means trips and tours are abundant. Tourist hotspots like Pha Nga Bay and the Similans are just around the corner, with jungle trekking, diving and various other activities all popular adventures to do while on holiday here.
Phuket has more to offer than almost any destination in the world. This exclusive Island, home to millionaires and celebrities will leave you with a full itinerary if you wish to indulge in all its delights. Take a look at just some of the optional excursions and activities that will be available to you while you take your sex vacations with us. Click on the links below to take you to our optional excursions sections.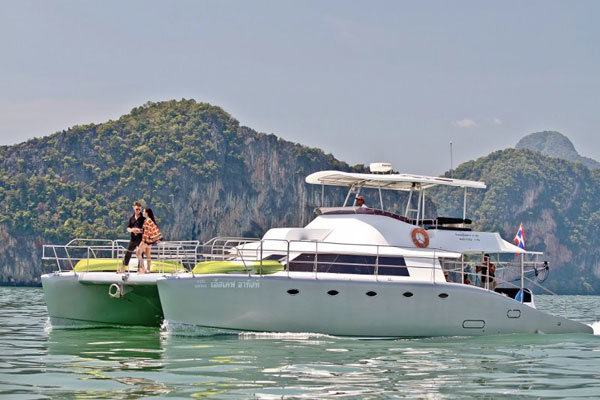 Premium Excursions
Personalized tours, charters and services for our VIP guests & those wanting a little more
Beaches
The main draw of the island is its endless collection of fine beaches, with great swimming and diving on offer around almost the whole island. Patong Beach, however, is chaotic and has a constant throng of visitors sunbathing on loungers and swimming in the cordoned-off area, which can get churned up with the continuous stream of speed boats and jet-skis.
Karon and Kata both have similar beaches in length and scenery but are much quieter than their busy counterpart. The sea can get choppy at the top end of Karon Beach, which provides hours of fun splashing in the waves, while Kata has very clear water and only a few loungers that don't intrude.
On the southern point of Phuket is Rawai Beach, which has a very rustic feeling of authentic Thailand. Used mainly by fishermen and Western expats, the beach is one of only a few that do not have great swimming, but what it lacks in clear water it makes up for with a calm atmosphere and pleasant local restaurants.
Restaurants
Phuket has some great restaurants with beautiful views, and most of them specialise in freshly caught seafood as well as a wide variety of cuisine from all over the world. White Box overlooks Patong Bay and serves up a fine selection of Mediterranean and Thai dishes that are cooked to perfection by chef Laurent Tollari.
The Coyote chain has a great location on the beachfront in Patong and boasts a large choice of margaritas and extremely tasty Mexican food. In Karon, the Tom Yam Kung Restaurant offers a great choice of authentic Thai cuisine at good prices.
Kamala boasts some excellent eateries including Rockfish, which is an open–air gem with mountain and sea views that are perfect to admire along with a fine glass of wine from their extensive selection.
Bars and clubs
Patong is well known for its thriving nightlife and wide selection of bars to suit everyone. The main street of Bangla is where the majority of the action happens and is bustling with tourists and touts 24 hours a day. Scattered in between a vast array of go-go and beer bars are some bars for couples, including Scruffy Murphy's, which has a great outdoor seating area that is perfect for watching the hustle and bustle on the street.
Bangla Road is famous for its beer bars and lively girls who spend most of the night greeting passers-by and enticing them in for a drink.
Away from Patong, in Kata, there are a few simple bars that don't stay open late and this is the perfect setting to enjoy a quieter drink. The Easyriders Bar plays hard blues rock and has a resident band and is popular with expats as well as tourists.
Shopping
Another massive draw for tourists travelling to Phuket is the vast amounts of shopping available, from fancy shopping centres that are full of department store and fast food outlets to Thai market stalls and tailors.
Patong has many large Western-style plazas and malls with shops, cinemas and bowling alleys that take hours to explore and get lost in. It is also home to some of the best suit tailors outside of Bangkok and Big Boss Fashions offers great service after having been in business here for over 20 years.
Weather and transportation
Unlike the rest of Thailand, Phuket is privileged with a climate that stays roughly the same year round but it still has two distinct seasons. November through March sees the best weather while the highest rainfall occurs from May through October.
Transportation around Phuket is similar to that on Koh Samui, with taxi prices negotiable and tuk-tuk drivers sometimes taking advantage of unsuspecting tourists wanting to experience a ride in an authentic Thai vehicle. Hiring motorbikes is common practice and riding a songthaew is a great way to get about.
Phuket is a beautiful island that has a charm and aura which draws in tourists every year, and you can be sure that you will enjoy your visit to this immensely popular spot on your sex vacations.