Angels Access Travel Disability Package
Yes Phuket is wheelchair accessible albeit a work in progress but is constantly developing and changing for the better. Due to enquiries and previous disabled guests joining us we now have a dedicated access travel package. Phuket actually ranks as the top pic for accessible destinations in Thailand. See the top 5 here
The package below is adaptable and flexible to suit each individual guests personal needs and we are happy to discuss any services we have not mentioned should they be necessary. However we know our limitations and our package offer only extends to those who require assistance with mobility. We cannot offer more intensive care services or specialist help.
Thailand Access Travel Package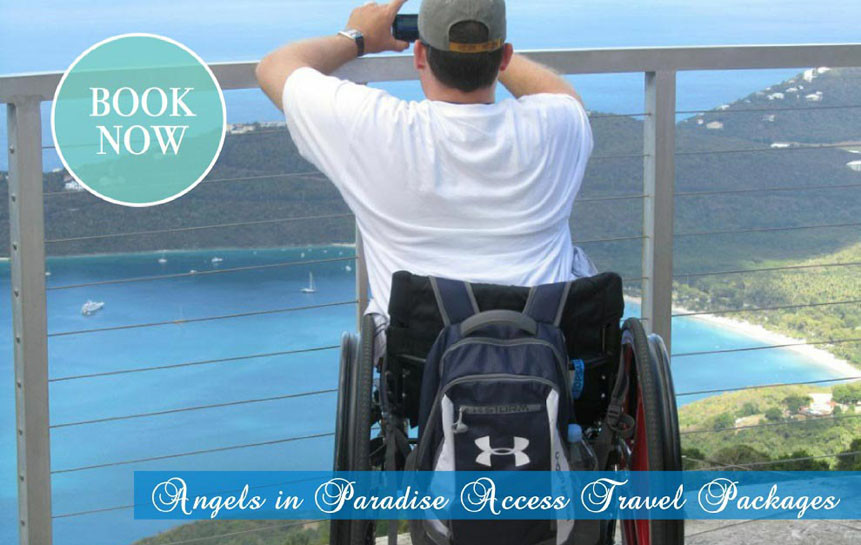 Angels VIP Package includes your own private luxury villa with A/C, free Internet wireless access and private swimming pool.
7 nights, any day check in.
Round trip airport transfers from Phuket International Airport
One Angel of your choice 24 hours a day for the entire period.
The opportunity to change your companion for the following day.
Inclusive excursions/tours : Coral Island via large boat, lunch included, VIP tickets to Simon Cabaret a show with a difference! Tour of Bangla Road
An on- call English speaking representative.
Breakfast supplies in the villa.
Accessibility equipment rental options including wheelchairs
Access to adapted mini bus option
Additional carer options
Click to expand prices in relevant currency
THAI BAHT
7 Access Travel Package: 125,000 THB (extra nights 14,000 THB)
$USD
7 Access Travel Package: $3,642 (extra nights $391)
£GBP
7 Access Travel Package: £2,837 (extra nights £317)
€EURO
7 Access Travel Package: €3,213 (extra nights €359)
$AUD
7 Access Travel Package: $4,990 (extra nights $525)
$CAD
7 Access Travel Package: $4,742 (extra nights $520)
Equipment Hire
Available at extra daily cost
General Information on the Access Travel Package
We make this a specially planned week or more for your stay here and the more information you give us the better we can prepare for you everything you need and want to do or achieve. We provide access to all the major tours available in Phuket that are able to provide services for wheelchair users and that includes scuba diving for beginners! Depending on the kind of week you want or how tied you are to an itinerary, we can plan the full week ahead with daily excursions or if you prefer a more relaxed week with your Angel then take advantage of the luxury villa and private pool along with the odd outing in the evening. Its really up to you, we are here to provide you with the best Phuket has to offer along with a beautiful companion.
For more generic frequently asked questions please go here F.A.Q.
Get Started
Fill out the form below and your journey will have already begun…..