Make a choice of one of our stunning Angels, on arrival she'll be in your luxury private villa ready and waiting for you to spend a wonderful week together.
Optional Excursions, news, updates & events, plenty to do here in Phuket for those who want to do a little more and explore some of this paradise island.
We provide your own private luxury villa with pool just for you and your Angel. No need to venture out, take a relaxing holiday by the pool with beautiful company.
Be pampered, go VIP and have the benefit of not just one but two of the lovely Angels with you 24/7. Have the experience of a lifetime with our VIP vacation packages
We like to provide as much information as we can before you arrive and many of our guests have similar questions before embarking on one of our Thailand sex vacations.
We want each guest to return to join us, our repeat visitor ratio is high, we hope you'll be one of them, view some genuine feedback.
Just like our sexy Angels, Phuket, Thailand is hot, all year round, head to our weather page and see the latest temperature here in paradise.
You can view our availability throughout the year here, its always kept up to date, scroll back in time to view our past busiest periods so you know when to book well ahead!
Friendly booking experience with responsive replies and information. All replies answered so check your spam mail if you do not get yours.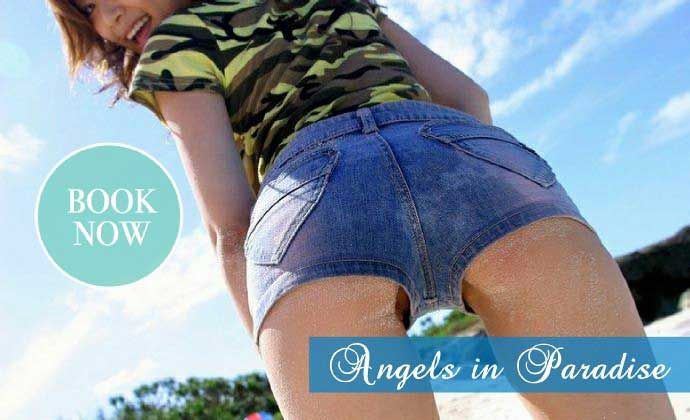 Our team are an integral and vital part of a successful operation. We choose our Angels carefully. They know what to do!! They know Thailand and especially Phuket. They will make your Thailand sex holiday experience a dream. They all share a common passion for the job. Perhaps, because not only do they enjoy doing it but they are also looking for a future husband….so beware!! More than one of our clients have ended up hitched already.
Enjoying seamless service does not happen by accident. The staff work together to ensure everything is ready to create a memorable vacation.
Angels erotic holiday packages
A flexible choice of packages all fully customizable if required. These are not just exotic holiday packages, they are full vacation experiences, with great excursions with wonderful surroundings on a paradise tropical Island with the added luxury of an intimate and sensual Angel to join you. The perfect solution for the best stress free break you will ever have.
Our Villas
Discretion is assured in your own private villa with its own private pool. The villas are the height of luxury and ensure your adult vacation experience will be comfortable and rewarding. All villas are modern and built to western standards, have free internet access, kitchens, living rooms, bedrooms, ensuite bathrooms, swimming pool. No sharing with other guests.
Airport Transfers

Inclusive